Tolentino Townhomes by Trans Phil Land Corp.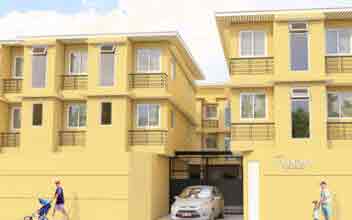 Project Type : Townhouse
Listing Type : Preselling
Units : 3 BR, 4 BR
Price: ₱ 5,080,000 & Up
Address : 2526 Tolentino corner P.C. Santos Streets, San Roque,
Location : Pasay , Metro Manila PH Tolentino Townhomes Trans Phil Land Corp. Tolentino Townhomes Tolentino Townhomes Trans Phil Land Corp. Tolentino Townhomes Pasay
https://tolentinotownhomes.phproperty.com
Experience the bliss of living in one of the perfectly created residential complexes in the name of Tolentino Townhomes in Pasay City. Tolentino Townhomes is the exclusive addition to the popular Trans-Phil projects. It is a well-designed enclave incorporating fifteen contemporary units. It is conveniently located along PC Santos as well as Tolentino streets of Pasay City which make it convenient for the residents to travel and commute. Easy location contributes a lot to our daily lives and Tolentino Townhomes is the best example for the same. With a whole lot of nearby located essentials including commercial centers, retail counters, shopping malls, banks, churches etc. Tolentino residents can avail all the necessities within easy reach. All the well-designed and spacious units of Tolentino Townhomes are available for residential use with several utility rooms including 3-4 rooms. Each unit is a luxurious experience in itself with a personal car garage, service as well as maid's room. These units offer all the unique features along with good utilization of the maximum space allotted to the unit. Security of the property and its residents is of prime importance for the builders of Tolentino Townhomes. The prime regions of the entire property are fitted with CCTV cameras, smoke and fire detectors, emergency lights etc. Placement of trained security professionals at the entrance and exit further adds on to the security of the property. With such jam packed facilities, nearby essentials, as well as spacious units you can lead a luxurious and hassle free life. Hence, wait no more and book your luxurious unit today!
Popular Links
Tolentino Townhomes
Tolentino Townhomes Location
Tolentino Townhomes For Rental Units
Tolentino Townhomes Resale Units
Tolentino Townhomes Pre-Selling Units
Tolentino Townhomes Showroom
Tolentino Townhomes Amenities
Tolentino Townhomes Price
Tolentino Townhomes Contact
Available Units