Revellin Townhomes II by Trans Phil Land Corp.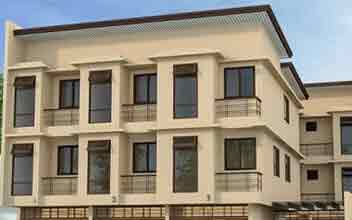 Project Type : Townhouse
Listing Type : Preselling
Units : 2 BR, 3 BR
Price: ₱ 5,170,000 & Up
Address : Medel Street, Sta. Ana,
Location : Manila , Metro Manila PH Revellin Townhomes II Trans Phil Land Corp. Revellin Townhomes II Revellin Townhomes II Trans Phil Land Corp. Revellin Townhomes II Manila
https://revellintownhomes.phproperty.com
The Revellin Townhouse II is located along 2151 Revelling Street at Tejeron Street in the heart of beautiful Manila City. It is developed by Trans-Phil Land Corporation and is one of the prestigious ventures by the developers. The homes are all contemporary styled architectural bliss which gives all the lifestyle convenience and is perfect for families. In total there are 7 units where for Unit 1, 2 & 3 can be used for residential as the well commercial purpose and the rest of the units are only for a residential purpose. The unit types for the residential purpose are mainly 2 to 3 bedroom unit measuring between 87 to 106 sq. meters. Most of the units have a living room, carport on the ground floor, kitchen, dining & master bedroom on 2nd floor and lastly the 3rd floor consists of two bedrooms. The 7th unit has maid's room and carport on the ground floor, kitchen and living & dining area on 2nd floor and 3rd floor consists of master bedroom and bedroom. The complex is loaded with many modern amenities including kitchen system, telephone line, intercom system, garage, water heating, internet line, parking area etc. The townhouses are very convenient as they provide space for large families to accommodate and all the residential units are equipped with modern and high-end amenities for comfortable living. It is close to many governments and private office along with commercial establishments. It is in close vicinity to Puregold, Tejeron, Santa Ana Public Market, SM Savemore Santa Ana, Santa Ana Church and Santa Ana Hospital.
Popular Links
Revellin Townhomes II
Revellin Townhomes II Location
Revellin Townhomes II For Rental Units
Revellin Townhomes II Resale Units
Revellin Townhomes II Pre-Selling Units
Revellin Townhomes II Showroom
Revellin Townhomes II Amenities
Revellin Townhomes II Price
Revellin Townhomes II Contact
Available Units