Perdigon Townhomes by Trans Phil Land Corp.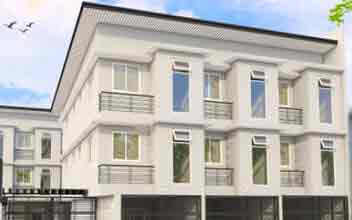 Project Type : Townhouse
Listing Type : Ready For Occupancy
Units : 3 BR
Price: ₱ 6,825,000 & Up
Address : 1346 Perdigon St., Paco,
Location : Manila , Metro Manila PH Perdigon Townhomes Trans Phil Land Corp. Perdigon Townhomes Perdigon Townhomes Trans Phil Land Corp. Perdigon Townhomes Manila
https://perdigontownhomes.phproperty.com
The Perdigon Townhomes is located along the Perdigon Street at Paco in middle of the Manila city making it a very convenient location. The project is developed by Trans-Phil Land Corporation which is the perfect address with a blend of luxury and convenience. Each of the residential units in the complex suits the need and requirement of occupants and is built with perfect artistic interiors. All the units are fully furnished and ranging from 106.59 to 145.05 sq. meters. The town house has in total 8 numbers of units all ranging in different sq. meters. It has 3 BR units which have living, dining room & kitchen on ground floor. All of the units have an additional maid's room and covered garage. It has a number of high-end amenities which include kitchen system, telephone line, intercom system, air conditioning, garage, water heating system, provision for internet connection, parking area and CCTV system. There are many safety features as well including electrical system consisting of electrical panel board, fire extinguisher, battery operated smoke detector, security grille fence, steel vehicular gate with door and doorbell for pedestrian, ladder rungs and pull down ladder for emergency exit, fire exit, LED rechargeable light and complete security with CCTV provision. With so many features and amenities, they provide a comfortable dwelling place for all the occupants. The townhouse is located in close proximity to a number of a commercial establishment which makes it a suitable place for young professionals. It has a number of schools, malls, market, offices, restaurants etc. all in close proximity.
Popular Links
Perdigon Townhomes
Perdigon Townhomes Location
Perdigon Townhomes For Rental Units
Perdigon Townhomes Resale Units
Perdigon Townhomes Pre-Selling Units
Perdigon Townhomes Showroom
Perdigon Townhomes Amenities
Perdigon Townhomes Price
Perdigon Townhomes Contact
Available Units