J. Fernandez Townhomes by Trans Phil Land Corp.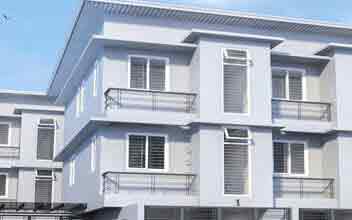 Project Type : Townhouse
Listing Type : Preselling
Units : 3 BR
Price: ₱ 6,117,000 & Up
Address : 394 Dr. J. Fernandez St., Brgy. Highway Hills,
Location : Mandaluyong , Metro Manila PH J. Fernandez Townhomes Trans Phil Land Corp. J. Fernandez Townhomes J. Fernandez Townhomes Trans Phil Land Corp. J. Fernandez Townhomes Mandaluyong
https://jfernandeztownhomes.phproperty.com
J. Fernandez Townhomes is located in the center of the Mandaluyong city. It is one of the busiest localities of the city but is still able to stay away from the hustle bustle. Mostly 3 bedroom units are available at a very affordable price of 6,117,000. These are specially meant for those who are willing to live in peace and not wish to buy or rent huge condo apartments and high levels from the ground. The great location of these town houses ensures the ease and convenience of the residents once and for all. They have their workplaces in the close vicinity, followed by schools, colleges, hospitals, churches, markets, shopping malls, commercial centers, movie theatres, restaurants, cafes, parks and what not. This is a perfect place for you to settle down with your family. Other amenities provided by the J. Fernandez Townhomes include 24-hour water supply, good and scientifically updated water pipelines for better service and utmost health safety of the residents, provisions for cable TV, telephone, window-type Air-Conditioner, the best of the bathroom fittings and a lot more. Basically, these Townhomes are provided with the best of the facilities so that all the residents can live a life of harmony and luxury at an affordable cost. The locality is such that it seems like it is far away from the city, even though it is at its heart with all the crowd right outside the building gate. This is a place where you can live in peace with your family.
Popular Links
J. Fernandez Townhomes
J. Fernandez Townhomes Location
J. Fernandez Townhomes For Rental Units
J. Fernandez Townhomes Resale Units
J. Fernandez Townhomes Pre-Selling Units
J. Fernandez Townhomes Showroom
J. Fernandez Townhomes Amenities
J. Fernandez Townhomes Price
J. Fernandez Townhomes Contact
Available Units